Valentine's Day is around the corner. You may not suspect it, your guy is actually super keen on finding out what gift he'll get from you.
The trouble is – you'll find thousands of equally awesome options on retail and digital-retail shelves. Don't be pressurized though. If you haven't yet picked a valentine's day gift for your man, well here are a few choices to help you pick that perfect one.
1. Charging Wallet
One of the essentials is a wallet, and a wallet with a charger is all he'll ever need! This Mark and Graham Slim Leather Wallet with Charger tops the list because of its smart functionality. The slim wallet comes with a portable battery to recharge your iPhone anytime, anywhere. You can also add a monogram to give it a personalized touch.
2. Water Resistant Messenger Bag
The classic and vintage look of this VASCHY Water Resistant Slim Messenger Bag makes it another essential that a professional man will love. This leather briefcase is made of waxed canvas and saddle leather that provides durability. The slim messenger bag can easily fit a 5-inch laptop or a notebook, along with carrying additional essentials in an organized manner.
3. Triple Charging Dock
Here's a dock that will charge your man's favorite gadgets at the same time. Oakywood's Triple Dock is handcrafted from premium wood available in walnut or oak wood that charges Apple iPhone, AirPods, and Apple Watch. This natural-looking wooden charger adds warmth to any desk or bedside table.
4. Bow Tie
Going for a dapper look on Valentine's Day dinner, go for a bow tie! A bow tie can change the look of a classic suit or casual wear. Ella Bing's handmade bow ties are available in plaids, prints, and polka dots made from high-quality cotton and elegant silk. Brace yourself for the compliments that will come his way.
5. Beard Prep Grooming Kit
Your man keeps a beard and cares for it, then gift him a beard grooming kit from The Art of Shaving. This grooming kit is a three-step beard care routine for an enviable beard. It features a Beard Wash to clean, Beard Conditioner to deep condition and soften, and non-greasy Sandalwood Beard Oil to style your beard. All of these are elegantly packed in a black travel bag.
6. Shave Kit
If he likes a clean-shaven look minus the hassle that comes with it, here's something that he will cherish. Bevel's Shave System, a shave kit packed with natural ingredients to soothe and nourish the skin. This shave kit provides a complete experience that protects, cleanses and nourishes the skin every time he shaves. The kit contains Bevel Safety Razor, Shave Brush, Priming Oil, Shave Cream, Restoring Balm, and 60 Blades.
7. Texting Winter Gloves
Stay connected with him even in the cold winter with Moshi's Digits Touchscreen Gloves available in light and dark gray colors. The gloves will keep his hands warm, while also letting him stay connected with the world. The touchscreen gloves are made of conductive fibers on fingertips and thumbs that enables responsive and precise gesturing on the smartphone or tablet. These gloves provide superior grip and are washable.
8. Wooden Framed Sunglasses
Another essential accessory is sunglasses, which will not only add to his style but also safeguard his eyes. Ella Bing's Polarized Sunglasses for men come in varied styles and frames, wood and non-wood. Polarized sunglasses provide clear vision by reducing glare. These lightweight and comfortable sunglasses are made from a variety of woods such as Ebony and Zebrawood.
9. Spirit-Infused Coffee
A good cup of coffee is all he needs to start his day on the right note! But here's a coffee with a twist, Fire Dept Coffee is infused with his favorite spirit. The spirit-infused coffee is available in Bourbon, Irish Whiskey, Tequila and Rum, which can be purchased in ground or whole bean variety. They offer freshly roasted coffee packed with delicious and robust flavor. Every purchase offers 10% proceeds towards supporting ill or injured firefighters and first responders.
10. Hybrid Smartwatch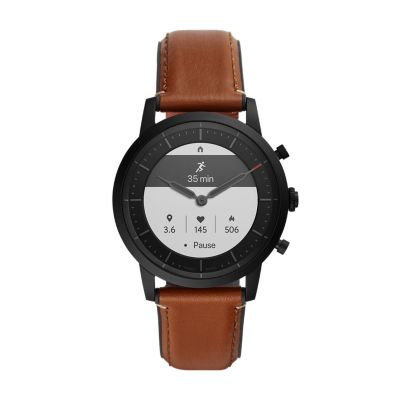 A man's outfit can never be complete without a watch. Here's a hybrid smartwatch with a classic look to complete his look. Fossil's Hybrid Smartwatch HR Collider is Bluetooth enabled that is compatible with Android 5.0+ and iOS 10.0+ devices. The smartwatch has built-in fitness tracker, displays text, email, social media, app alerts, multiple time zones, alarm clock, calendar alerts. The Fossil Smartwatch can also find the smartphone by playing an audible alert so he can find it quickly.
11. Sneaker Care Kit
Men's love for sneakers is no secret! So, here's something that will earn you some brownie points. A complete sneaker care kit from Men's Society, a handy kit equipped with everything he will need to blast dirt, grime, and odor from his favorite kicks, without fading or damaging the material.