In no particular order…
---
1. Adam Sandler and Rob Schneider
Rob and Adam have appeared in 18 movies together over the course of 25 years, including 'The Hot Chick', 'The Waterboy', and 'Mr. Deeds'.
---
2. Cheech and Chong
Cheech and Chong have been a power couple since the 70s, appearing in several movies together, including the cult classic 'Up In Smoke'.
---
3. Amy Poehler and Tina Fey
Tina and Amy have been a killer duo since their days on SNL, and both starred in 'Baby Mama' in 2008. While they separated for their own projects over the last several years, they've reunited to host award shows and generally make everyone laugh whenever they get the chance.
---
4. Chris Farley and David Spade
Another duo from SNL, Spade and Farley appeared in countless hilarious skits as well as Tommy Boy and Black Sheep, which was enough to cement them on this list.
---
5. Will Ferrell and John C. Reilly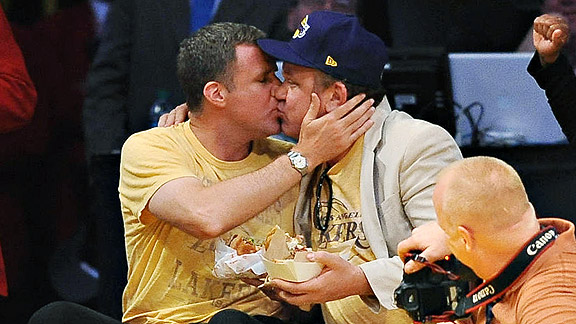 Ferrell and Reilly have no shortage of comedy gold – from Step Brothers and Anchorman to Talladega Nights, every time these two pair up we're in for some laughs, and lots of quotable lines.
---
6. Lucy and Ethel (Lucille Ball and Vivian Vance)
I've always been a sucker for I Love Lucy, but part of the magic of that show was the comedic chemistry between Lucille and Vivian. Effortlessly funny, which is the best kind of funny.
---
7. John Belushi and Dan Aykroyd
Best known together as The Blues Brothers, a sketch that started on Saturday Night Live.  The original skit didn't even have them dressed the way their iconic characters are remembered. It literally took on a life of its own.
---
8. Seth Rogen and James Franco
These two started their time together on the short-lived 'Freaks and Geeks', but since then have appeared in several movies including Pineapple Express and This Is The End. Out of all the work they've done together, their parody of the Kanye West 'Bound 2' video was my favorite.
---
9. Owen Wilson and Ben Stiller
Nothing else needs to be mentioned other than Zoolander. Wilson and Stiller as male models will forever be amazing.
---
10. Gene Wilder and Richard Pryor
Partners forever, Pryor and Wilder have appeared in movies like 'Stir Crazy', 'Blazing Saddles' and 'See No Evil, Hear No Evil'.
---
There were so many to choose from! Did we miss any? Let us know your favorite comedic duos in the comments!